I'm joining in on my first Blog Hop or Linky Party, whatever you might want to call it!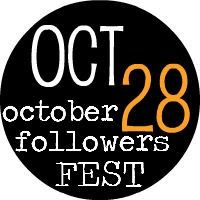 I'm linking up
here
.
Welcome new visitors! I hope you're having a fabulous time and enjoy my blog. Check out my
About Me
or some related posts below. Or just check out EVERYTHING!
It's my first Halloween with a pet of my very own, so naturally, he's dressing up.
He's not a huge fan of it, but I think he's just precious! But then again, when don't I?
Are your pets dressing up? Are YOU dressing up? If I dress up this weekend, I think I'm going to be Audrey Hepburn circa Breakfast at Tiffany's. I have the perfect black dress that is soooo Audrey.
Happy Halloweekend!