I've officially finished week one of grad school! YAY! To celebrate, I'm linking up for High Five for Friday!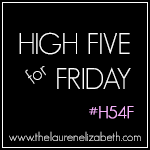 1. In honor of my first week of grad school, I participated in #throwbackthursday on Instagram with this gem! My first day of kindergarten. Check out that hot uniform.
2. Last Friday, Nappy got a bath which means a new bed for his crate. I put the old bed out in the living room so I could vaccum it and save it for an emergency. He was so tired but afraid to go to his crate, that he laid on the old bed. He also got a new toy as a peace offering from me and I laid it on him for a picture. He was not amused, clearly.
3. ESPN Classic reran the Rose Bowl TCU won the other night from 11-1. Did I stay up to watch it? Hell yes. Until TCU goes to the national championship (preferably with me in the stadium) this will be the greatest game ever. Also, IS IT FOOTBALL SEASON YET?!
4. I've made the terrible decision that Fridays will be used for catching up on reading and hopefully preparing for the next week. Lame, maybe, but I'd really like to be great at grad school!
5. And finally, this is my room. Doesn't it look cozy? It is. My tempurpedic mattress is my best friend for life, sorry everyone else. I love it so much! I still have a little decorating to do, but my apartment is definitely coming together. Aside from my noisy upstairs neighbors, I'm loving apartment life so far!
BONUS: I saw the Mortal Instruments solo on Wednesday and really enjoyed it! I wasn't a huge fan of the book but I love Lily Collins so I was excited for the movie and was not disappointed! It's made me interested in the second book of the series... I don't know when I'll read it; maybe Christmas break?
How was your week?