It's the last Sunday Social of 2012!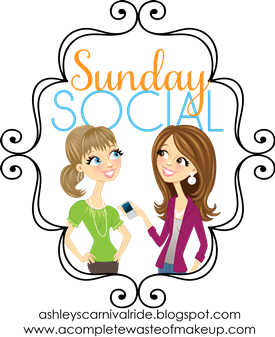 And it's all about New Years!
1. Favorite New Years Eve you've ever had?
NYE 2010 in California before TCU played in the Rose Bowl! There was a big TCU NYE party at Hollywood in Highland with the TCU Band and celebrity look-alikes! I took my picture with Lucille Ball, just like Mr. Bob Schieffer. We toasted at Texas midnight (aka 10 pm California time) and all headed back to our hotels. The next morning I got up and went to the famed Rose Parade and watched my Horned Frogs win the Rose Bowl!
Happy New Year's and go frogs from LA!
2. Are you doing anything this NYE and if so what?
My married friends, the Browns, moved over the summer to a nicer apartment and they're hosting their first big shindig at the new place. We're going to have lots of food, fun, and of course friends!
3. Name a book we should all read come January.
Is Everyone Hanging Out Without Me?
by Mindy Kaling. I've
blogged before about my newfound obsession with Mindy
. She's hilarious. She was hilarious on The Office as Kelly Kapoor and she's even more hilarious on her new show The Mindy Project as Dr. Mindy Lahiri. I also recommend other comedienne's books (Tina Fey, Chelsea Handler, etc).
4. What are your new years resolutions?
Drink more water! This has been a resolution for the past few years and I've made a great effort, but I know I still don't drink as much water as I should.
Read more! I started the A Song of Ice and Fire series (aka Game of Thrones) last September and I've spent most of this year reading the fourth book. I want to finish 4 and read all of 5 in 2013! As well as the other 3 books I've got open in real life and on my Kindle. (Give me some suggestions on what you're reading, too! I love to know what my friends are reading!)
Get into Grad School! I know this isn't totally in my control, but once I get into grad school I want to study my ass off. I mean, study like I know I should have in undergrad. Get awesome internships. Meet new people. Enjoy grad school to the fullest.
Spend more time with Nappy. Do more things he likes, like playing with his little soccer ball outside and going to the dog park when we move to a place that has a dog park (hopefully this summer?).
Eat better. I've been battling my cholesterol for the past two years now (an unfortunate side effect of my thyroid issues) and I know I can eat better, but Chick-fil-a is so convenient and delicious. I started counting my calories in August and it's actually helped me stay accountable to how much crap I eat and makes me want to eat better. So I'm going to do it. 2013 is the year!
Are you linking up for Sunday Social?