I kind of wanted to wait until Thursday to do a thankful post, but I figured I'd be too busy eating the most delicious turkey (Greenberg Turkeys. Google it. It's been on Oprah's Favorite Things, so you know it's LEGIT.), napping, and watching football (GO FROGS!!! Beat Texas!). So I'm linking up for Sunday Social again!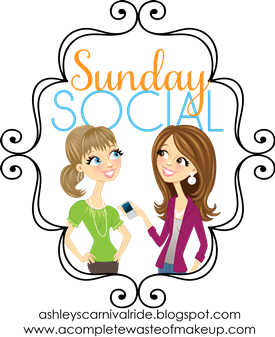 I am thankful for the most amazeballs family ever. I thankful they are supportive of me no matter what. I'm thankful that my divorced parents get along and I'm thankful that I'm reminded of this regularly. Their friendliness post-divorce has made my life so much easier. I'm thankful for my amazing step-family (or bonus family as my Dad likes to say), including my step-mom, step-seesters, and step-grandmother. I'm thankful for the ten years I got to spend with my step-grandfather. I'm thankful for family here and gone.
caricature of me and seesters
Daddy, Jan, and me - Rose Festival 2011
I'm thankful for my friends, old and new. Friends like Jessica who(m?) I've known since we were in first grade (although we weren't friends until fifth grade). Friends I met later in school like Kendall and Muck. Friends I met at TCU. Friends I met after graduating. Friends I met after I moved home. Friends from camp. Friends I've made at work. All of my friends are the best and I love them all.
Muck, me, and Kendall
at my graduation
I'm thankful for my part-time job. I'm gaining a tiny bit of experience while working in a really fun environment.
I'm thankful for the opportunity to go back to school and further pursue my passion.
I'm thankful for my sweet Nappy boy even when he gets bitey and tries to gnaw my arm off.
Nappy's "Walk?!" face
What are you thankful for this Thanksgiving?