I'm linking up again for Sunday Social! This week is all about growing up and teenager-dom. You know you've been dying to know all about my teenage years.
1. What was your first car?
My 16th birthday was on Mother's Day and I went to camp 3 weeks later so I was totally convinced I wouldn't get a car until July when I got home from camp. When we were out for my birthday/Mother's Day my card from my dad had a picture of my car in it! I was SHOCKED. For two years I was the proud driver of a 1992 Dodge Spirit.
My step-sisters, me, and the Spirit
2. Who was your favorite childhood teacher?
I have a few, but I mainly like them because they're easy to make fun of. I know it sounds AWFUL, but seriously, if you had had these teachers, you'd make fun of them too.
3. Were you involved in any sports/extracurricular activities? Share pictures if you can!
In late elementary school I played Upward Basketball (my first sport ever, y'all). In middle school I played tennis and volleyball and was pretty terrible at both, but I still love them. Then in high school, I focused on dancing and senior year I was on drill team (or dance team for you non-Southerners). Unfortunately, I don't have any pictures online... Bummer.
4. What was your favorite birthday party?
That is an excellent question. My 7th grade/13th birthday party was pretty awesome. My middle school bestie's birthday was a week after mine and another of our friend's birthdays was in June so we had a triple pool party at said bestie's grandparents' house. Then all the girls were invited to stay at her house for a sleep over. We had a blast.
5. Who was your teen celebrity crush?
There have been MANY. Orland Bloom, Heath Ledger (RIP), Freddie Prinze Jr, Zach Hanson, JC Chasez, Nick Carter, and I'm sure there are others...
6. What show/movie did your parents not allow you to watch?
Anything on MTV (ie Celebrity Death Match), but I still ended up seeing it somehow. And Titanic. I was definitely in like 4th grade when that came out and one or two of my friends saw it and the rest of us couldn't. Very upsetting.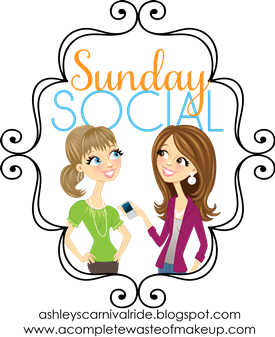 Are you linking up for Sunday Social?