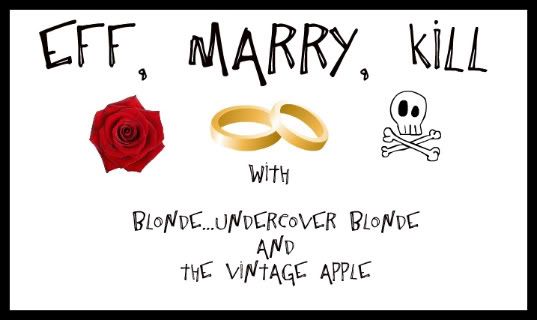 FINALLY! Another Eff, Marry, Kill link up! I loved this back in November and I've been anxiously waiting for another one! This time I've chosen a few of the Glee boys...
Finn Hudson, Noah Puckerman, and Blaine Anderson. For a minute now, let's just forget these characters' current love interests and preferences and go on looks alone. And personality.
Eff: Puck. Who can resist his abs? I mean, come on!
Marry: Blaine. I. Love. Blaine. He is so cute and sweet! I love that he transferred to McKinley, but I really miss that Dalton Academy blazer. (Darren Criss is just hot in real life, too. Let's be honest.)
Kill: Finn. I go in and out of liking Finn. He gets kind of dopey from time to time and for this reason I'd off him.
Who would you eff, marry, and kill from Glee?