Hello! I've been way MIA lately, sorry! I've been busy studying for the GRE (except the past 4 days when I randomly took a break for no real reason). I'm back and linking up for Miscellany Monday for the first time!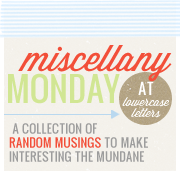 It's the first day of school for most colleges in my neck of the woods and it's so weird to think I could be starting school again in a year! This whole grad school thing has me thrown though a loop but it's exciting and I can't wait to see where it takes me. I'd love love LOVE to go back to TCU (because I love Fort Worth and their Ad/PR grad program is awesome), but I've been told that it's not always the best idea to get your masters where you got your bachelors... Bummer Anyone out there know anything about this? I'd love to hear your takes on it!
My step-sister had her foot/ankle surgery Thursday. It's much tougher recovery than her knee last month. Two whole weeks (except her senior year of high school starts in a week) on bed rest and then a walking boot for many weeks. Send some good vibes her way. I'd really appreciate it if you did!
I found out my metabolic age last week. That is some no bueno ish going on. Most everything about my insides are ok (except water intake, but I'm REALLY working on that), but this learning of my metabolic age has really kicked me into gear on actually trying to get into better shape. I will for sure be taking part in the 20 Something's dance class at a local studio here. I've done a couple of the summer classes and last week's was awesome. I can't wait to get back into dance. I just hope I can find a place like this when I go to grad school!
I don't know if I've blogged about it before, but lips have started itching for some reason when my allergies are randomly bad...? Anyway, last night my lip was itching and in my sleep I scratched it and now it really hurts. Big bummer. Maybe a little TMI, but it's my blog, so you can deal.
Kelly Ripa will be announcing her new cohost SO soon! she tweeted that the new cohost will be on starting September 4! I've surprisingly enjoyed the continuous change in cohosts. My faves have been Josh Groban, Nick Lachey, Michael Buble, Seth Meyers, and Neil Patrick Harris. Her chemistry with them is great! I'd love for it to be one of them, but I don't think it will be due to contracts, families, and the like.
Are you linking up for Miscellany Monday?